Hello, my name is Brian Caouette and I own and operate DJ-BrianC a local Maine DJ Service. I have been in business since 1992 providing quality entertainment for all types of events. I have performed as a DJ for hire at Weddings, Anniversaries, School Dances, Christmas Parties, New Year's Eve Parties, Halloween Parties, Birthdays, Clubs, Corporate Events, Karaoke Nights and more. I make it my top priority to perform your event to your exact specifications. I treat every event as if it were my own. Your satisfaction is my top priority! Give me a call so we can discuss your needs and see if I might be a compatible match for you.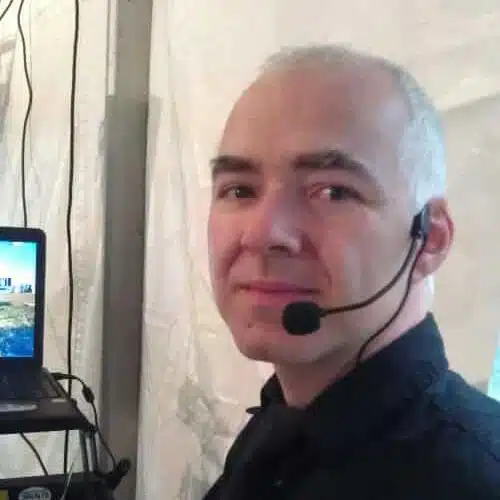 Why hire me rather than someone who may work for less?
With DJ-BrianC you always work with the owner.
I'm not a multi-system company or a booking agency.
I constantly strive for quality through continued education, advanced preparation, and taking advantage of the latest technologies.
I've been in business since 1992 and have played consistently every week since. I have the experience, knowledge, and equipment to get the job done the way you want without cutting corners.
I never sacrifice quality to save a dollar. I use only professional grade DJ equipment.
For your protection I carry One Million Dollars in Liability Insurance!
I always carry backup equipment. You have peace of mind in knowing the show will go on!
My music is updated weekly direct from a leading DJ only music pool. I have the newest music typically months before you even hear them on the radio!
Unlike many KJs who share karaoke music, I own all of my karaoke. No copies or internet downloads means I have the best sounding, legal and fully licensed library around! Plus, you have the added peace of mind in knowing that your event won't be raided for karaoke piracy and/or copyright infringement.
Due to my commitment to the quality of your event I do not illegally download karaoke. This protects both of us against legal charges as well as ensuring the music you hear is of the highest quality.
I will not stream off YouTube. It's not licensed for public performance.
Your event is VERY important to me and should not be decided on by price. I believe in the line "You get what you pay for." The benefit of hiring a professional Dj far outweighs that of the typical budget or club DJ. Anyone can go online and download music and play it but that doesn't even come close to the value provided by hiring a qualified professional! I am dedicated to providing quality professional service at a fair price. Don't take the risk of saving a few dollars.
The success of your event may be at risk!
Your DJ can make or break the event. Book a DJ who is a Professional Maine DJ who will provide an outstanding service and a DJ Company that doesn't believe in taking shortcuts.
Someone who uses nothing but professional equipment that is built to handle the demands of being on the road every weekend.
Someone who purchases all their music rather than downloading it off the internet.
The last thing you want is for your DJ to be put out of business days or weeks before your big event because they finally got caught for music piracy and trust me it does happen!
Sharing music with your friends or downloading at home will not get you caught playing unlicensed music does get DJ companies shut down, it is theft and carries heavy fines.
I use only legally licensed karaoke! Your event will not be ruined by unethical practices!
Do you want to hire a DJ who is a professional?
DJ-BrianC is considered one of the Best DJs in Maine.
I am fully insured, you can give me a call or email today for a free consultation regarding your requirements for any of the DJ services I provide.