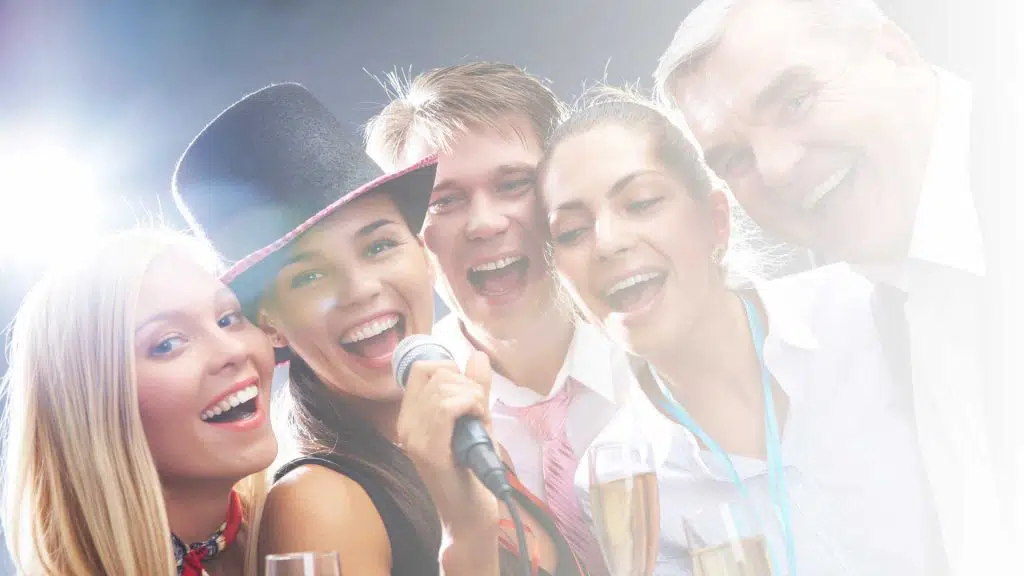 I am a full service Maine Karaoke DJ for Hire. I use a state-of-the-art computer system and have a music library like no other. This professional system allows for quicker searches for your song. It also manages singer rotation with ease. The lyrics and rotation order are displayed on my screen and/or your venues overhead screens. I have wireless mics so you're free to roam around the room during your performance and have the time of your life. I am in the business as one of Maine's karaoke DJ's to make sure your guest are having fun.
Be sure you hire a Karaoke DJ in Maine that has purchased the music being played. Don't take a chance by hiring someone with unlicensed music. The fines for music piracy can be stiff and both the venue and the DJ's will be held accountable. If your Karaoke DJ uses copied CDs, a loaded harddrive purchased from E-Bay and/or is willing to use YouTube take warning!
I provide karaoke entertainment for bars, clubs, parties, events and more. I'd love to be hired for your upcoming karaoke event. Providing unforgetable memories that last a life time. If you want to spice up your event and need a DJ for Karaoke look no further.
I have a passion for Karaoke and when I'm not working you can typically find me enjoying one of the many great karaoke shows in Maine supporting other karaoke DJ's. For my Karaoke shows I use great sounding Karaoke Music from:
DJ-BrianC is a DJ with Karaoke and I'm raising the bar for quality Karaoke service in Maine. Feel free to ask questions. Your search is over! I am your DJ for Karaoke! I'd love to work with you to personalize and make your karaoke party the best it can be.
Lights, camera, action! It's party time!
Since 1992, I have brought a wave of excitement that will make you and your guests the stars of the show.
Your Maine Karaoke DJ has one of the largest legal karaoke music library you will find in Maine. My regularly updated karaoke library features over 20,500 song selections; from the 1940s through the current hits.
I come equipped with:
A Flat Screen Monitor for the Words.
Microphones.
Complete, Professional DJ System.
DJ Lighting.
 I cover all styles of music including:
Country, Oldies, Pop, Urban, Classic Rock, Alternative, R&B,
Rap, Disney, Broadway, Holiday, etc.
Karaoke is a perfect add-on to any event.
Be sure to discuss this with me.
I'm happy to provide karaoke dj services to any event such as Weddings, Parties or Clubs, and Corporate Events.
Traveling over Maine providing quality karaoke services. I've been an:
Auburn, Maine Karaoke DJ
Augusta, Maine Karaoke DJ
Biddeford, Maine Karaoke DJ
Brunswick, Maine Karaoke DJ
Damariascotta, Maine Karaoke DJ
Greenwood, Maine Karaoke DJ
Lewiston, Maine Karaoke DJ
Lisbon, Maine Karaoke DJ
Mechanic Falls, Maine Karaoke DJ
Portland, Maine Karaoke DJ
Topsham, Maine Karaoke DJ
West Paris, Maine Karaoke DJ
Winthrop, Maine Karaoke DJ
Maine's Karaoke DJ for Hire
Are you searching for a Karaoke DJ near me?
When hiring a DJ for your event make sure he is insured. All professionals should carry liability insurance for your protection! DJ-BrianC is fully insured!
Give me a call to discuss your requirements and hire a DJ for your event today for Maine's number one Karaoke DJ service company in Maine!
Are you a Venue Owner?
Is your Karaoke Music Legal?
DJ-BrianC uses nothing but high quality music and is registered and in compliance with Phoenix Entertainment Partners, LLC.! (License# R83486150)
DJ-BrianC runs an honest ethical DJ Service and I believe strongly that everyone should do the same. It's just good business!