Best DJ for School Dances in Maine
Having a good Maine School Dance DJ is important to the success of your school dances. I realize that this is often a fundraiser for you. Picking the wrong Maine DJ Service can have serious repercussions on future turnouts. If the dances are a flop then chances are that the turnout for each school dance thereafter will also suffer.
When it comes to school dances I have you covered. DJ-BrianC got its start providing School Disc Jockey Services back in the early 90's. I provided safe clean music for schools in Lewiston, Auburn and Litchfield. Back then we were a partnership of two high school friends operating under the name Future Sounds. We were the talk of the school as we went all out in our attempts to provided outstanding School Dance DJ Services. While cruising the mall as teens do we would often get recognized by students saying "Hey it's our DJ". Frequently we'd have students bringing us snacks and drinks as we worked the high school dances.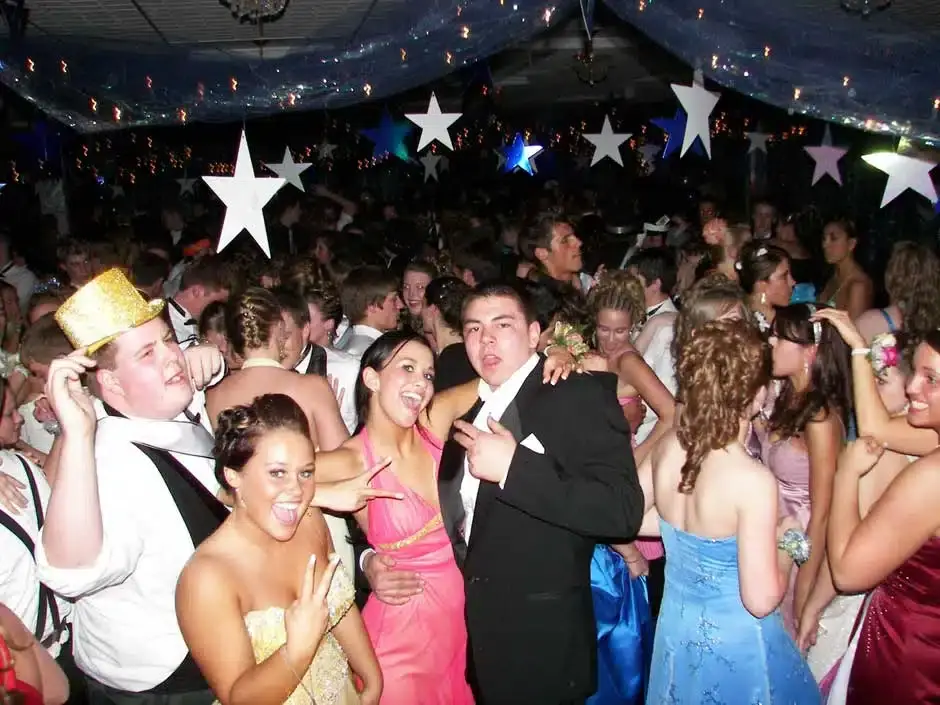 It was then that I knew being a Maine School Dance DJ was for me. No other job I could think of would provide this level of enjoyment. I mean where else do you get to listen to all the newest and greatest music, play with all the new technology, dance, eat, and watch people enjoying themselves and know that you've played a part in that enjoyment? Being a School Disc Jockey was a lot of fun.
The business ran for a few years as a partnership then as a single operator when my partners went off to college in the mid 90's and eventually left the business. In early 2000 I asked good friend, Scott to assist with a wedding and Scott was hooked. Having drifted apart for a few years Scott formed On The Fly DJ. In 2006 Scott and I reconnected and began working together. This lasted a few years then in 2010 I went back on my own and re-branded myself as DJ-BrianC.
I now use nothing but the latest in LED lighting. I even have a few of the old school lights left over from my early days that we've all come to know and love. With DJ-BrianC your school dances will be unlike any other dance you've attended. I can even bring fog to your school dance which makes my lighting look even more amazing.
Are you looking for Prom DJ Services with all the newest music? Clean safe High School Dance Music is import! My music is updated daily direct from a leading DJ only music pool. I always have the newest music typically months before you even hear them on the radio! Legal and fully licensed! This subscription service also ensures the music I play is suitable for school use as it's all radio edits. Due to my high commitment to the quality of your event I do not illegally download or share music. This protects both of us against copyright violation charges as well as ensures the music you hear at your prom is at its highest quality.
You can also add karaoke and music videos to your school dance. What better way to get all students involved and having a good time? And if you book multiple shows you earn discounts to be used on future dances. Give me a call I'd would love to be your Maine School Dance DJ! I'm also available on Facebook if you want to chat first.
Traveling all over Maine providing quality School Dance DJ Services. I've been an:
Auburn, Maine School Dance DJ
Bath, Maine School Dance DJ
Grey, Maine School Dance DJ
Hebron, Maine School Dance DJ
Lewiston, Maine School Dance DJ
Litchfield, Maine School Dance DJ
Portland, Maine School Dance DJ
Readfield, Maine School Dance DJ
Waterville, Maine School Dance DJ
Give me a call today so I can bring my School Dance DJ Service to your event!
Contact DJ-BrianC Now for Your Maine School Dance DJ Needs
I would be honored to make your Party special. Time slots fill up quickly, so please check availability or text me at (207) 212-6560 to choose me as your Maine School Dance DJ