Wedding Video Services can be costly, I understand, I've created my budget video package as a solution. Your wedding reception is an extraordinary event, unlike any you will ever attend again. Never again will you have this unique gathering of friends and family all in one place. It all goes by so quickly that you will be amazed later when your guests begin talking about one of their favorite moments that you didn't even notice.
Wedding Day Video from DJ-BrianC is more than a chance to relive the day, it's the opportunity to experience it anew. Not just for you, but for your parents, your friends, your children and your grandchildren years from now. How amazing would it be to watch a high quality, digital video of your grandparents wedding from 50 years ago? Now you can give that gift to your grandchildren and their grandchildren.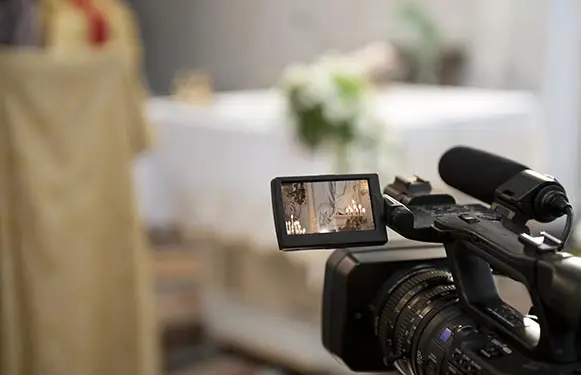 DJ-BrianC understands being in the moment. Our years of experience in helping couples create breathtakingly exciting moments ensures that we will never sacrifice the moment just for the sake of video. With today's high quality professional video equipment we can capture the moment without becoming the moment. Our affordable Video Services are just what you need to remember the day! Best of all you can add this option to your DJ package for a fraction of what it would cost to hire a videographer. Please note however that we are not Hollywood. All video is shot on professional gear as a best effort. There are many variables that can't be predicted such as bad lighting, screaming kids, or guests that insist on walking in front of the camera.
Contact DJ-BrianC Now for Your Maine Wedding DJ Needs
I would be honored to make your wedding day special. Time slots fill up quickly, so please check availability or text me at (207) 212-6560 to choose me as your Maine Wedding DJ.