Want to know a secret? In our many years of providing quality entertainment services, not one client has ever told me he or she is looking for the Best DJ in Maine. It's a meaningless title that every Disc Jockey claims as his own; and DJs love to throw it around to try to impress others.
At DJ-BrianC I'm content not claiming to be the Best DJ in Maine so I can focus all of my energy on providing you with a fun and stress-free entertainment experience. That's what you really want, isn't it? Don't get me wrong I always strive to provide the Best Disc Jockey Service I can but I won't waste your time with a meaningless claim.
My desire is to be the Best DJ in Maine I can for you. As professionals we all have our areas we excel at. It's impossible to be the best match for everyone and honestly a waste of time trying to be. I offer the following guide to help find the best match for you. After all, we all have different tastes, needs and personalities and no one can be the best match for everyone and everything.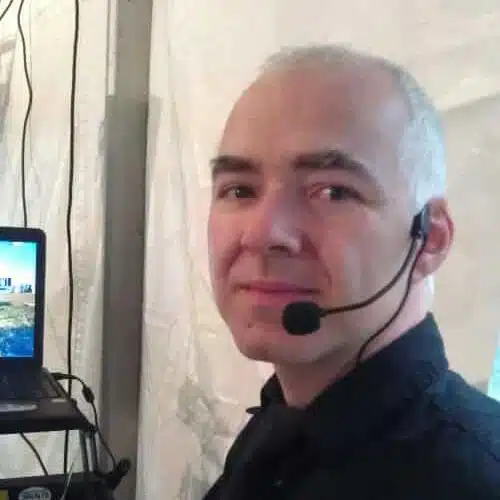 DJ-BrianC

vs. Other DJ Services
Feature

DJ-BrianC

Competitor
Experience
Since 1992
Wireless Mics?
Yes
Online Planning Tools?
Yes
Ceremony Music?
Yes
Karaoke Available?
Yes
Music Videos?
Yes
Dance Floor Lighting?
Yes
Online payments? – Visa, Master Card, Discover, PayPal, Venmo
Yes
Online Contract?
Yes
Online Availability Checker?
Yes
Insured for your protection ($2,000,000)
Yes
Wears Formal Attire?
If you wish.
Includes all equipment?
Yes
My Price
Starting at $500
Monogram Lighting? ("Your Name in Lights")
Coming Soon
Legal Music Library?
Yes
Videography Available?
Yes
Video Projection Service?
Yes
As you can see I'm a one stop solution. I offer "ALL" of my services in-house and have a very complete lineup of services. I don't outsource any of my services to other Wedding DJs therefore I have complete control over everything. No matter what your needs are you have just one point of contact. I don't feel the need to claim Best DJ in Maine.
Let's Check Availability and see if I'm available for your next event!