Mr. & Mrs. Charles Napolitano Wedding
West Forks Maine Wedding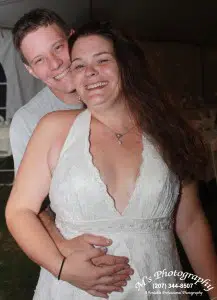 On Saturday August 11th, 2012 DJ-BrianC drove to West Forks, Maine for the Mr. & Mrs. Charles Napolitano Wedding. The reception took place at 15 Mile Stream Lodge & Outfitters. The last 20-30 minutes of our long drive was amazing. The scenery along side the river and thru the mountains was breathtaking.
The wedding party was introduced to "Love Walks In" by Van Halen. A social period followed while the lodge prepared dinner. After dinner we cut the cake to "Bron-Yr-Aur" by Led Zepplin and then the first dance "Thank You" also by Led Zepplin.
A few photo's taken by: Michelle Caouette of M's Photography at the end of the night.
Thank you for allowing us to be your West Forks Maine Wedding DJ!